Posted by ProPride Hitch on 25th Aug 2020
Are you ready for an unforgettable RV adventure? Whether you're a seasoned RVer or it's your first time on the road, embarking on a journey in an RV is a fantastic way to enjoy the great outdoors and spend quality time with family and friends. Imagine traveling across the country, working remotely while immersing yourself in the beauty of nature. But whether you're planning a weekend getaway or a long-term journey, the key to a successful RV trip is to be well-prepared. That's why we bring you the ultimate RV setup and teardown guide, a handy checklist to ensure your camping experience goes smoothly and hassle-free. Don't let a comedy of errors ruin your dream vacation, don't let small essentials slip through the cracks, let this guide be your best companion on the road, even when you're too tired or in awe to remember what you read or did.
RV Camper Setup Checklist
Arrive

Make your way to the campsite within the check-in hours and pull up to the check-in office.
Check-In and Get Directions

Check-in and ask about any discounts your RV club may have. Get a map and find the best route to your spot.
Send Someone Ahead

Send someone ahead to check out the width of the trail, and use them as your spotter to help you park.
Park & Position Your Rig Carefully at the Site

Carefully position your rig in the spot, leaving enough space for others, and being mindful of level ground and hookups.
Wheel Chocks

Once in position, put on the wheel chocks to prevent any movement.
Disconnect Towing Vehicle

Safely disconnect your towing vehicle and use it as your independent get-around truck.
Level Out

Level out your RV by extending stabilizers or using blocks under the wheels.
Hookup

Go through the hooking up process as per the instructions from the vendor.
Slide If You Slide

If your RV has slides, extend them out as long as there's enough room and you won't intrude on other's space.
Re-Establish Your Kitchen

Set up your kitchen and ensure everything is secure.
Get Settled In

Settle in and enjoy your new surroundings, meet your neighbors and have a great time.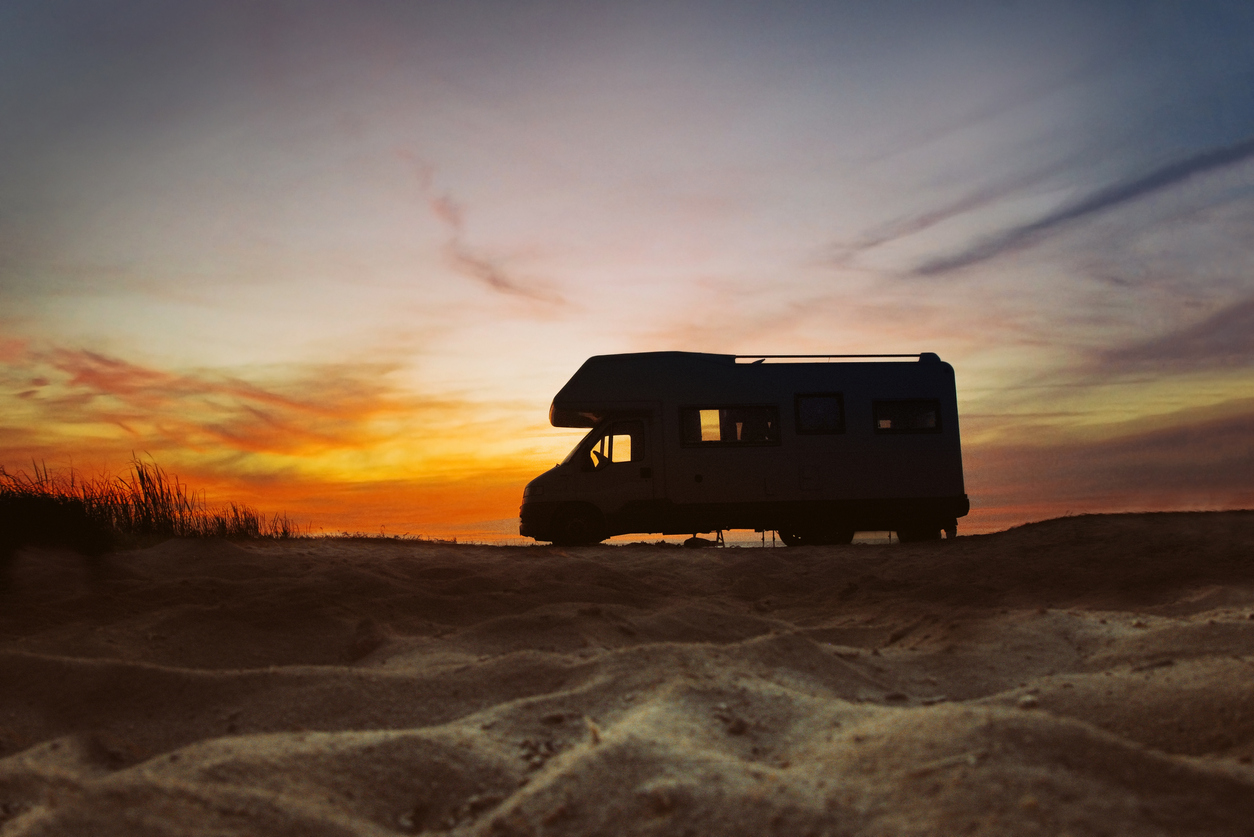 RV Teardown Checklist
Be Prepared

Get ready for teardown by packing and doing any prep work the night before, wear comfortable shoes and have a snack ready. Just a few tips from experienced campers.
Pack and Tether

Pack everything back into its storage containers and secure it so that nothing rattles around during the drive.
Mostly Empty Black and Gray Tanks

Empty the black and gray tanks, but leave a little water and add cleaning chemicals to clean them while driving.
Half Fill Galley Tank

Fill up the galley tank, but not all the way, it's nice to have some water in case of emergencies.
Check for Obstacles and Dock Your Slides

Check for obstacles and dock the slides, making sure everything is closed and latched.
Latch Doors & Vents

Make sure all doors, cabinets, drawers, and vents are closed and latched.
Turn Off Appliances & Water Pump

Turn off any appliances and the water pump, get ready to depart.
Disconnect the Hookups

Disconnect the water, power, and sewage hookups, making sure everything is closed and latched tightly.
Remove the Wheel Blocks or Retract Stabilizers

Remove wheel blocks or retract stabilizers.
Connect Towing Vehicle

Hook your towing vehicle to the hitch and check it to make sure everything is safely latched and ready to go.
Remove Chocks & Check the Tires

Remove wheel chocks, check the PSI and condition of the tires.
Once-Over

Do a quick walk-through of the inside of your rig and around the exterior, making sure everything is sealed and in place.
Good to Go

Hit the road, and enjoy your next adventure!
----

Are you ready to embark on the ultimate RV adventure? Whether it's your first time on the road or you're a seasoned traveler, the setup and teardown routine is always crucial to ensure a smooth and stress-free experience. With our comprehensive checklist, you'll have the peace of mind knowing that you've covered all your bases and nothing important is left out. From first-timers to seasoned travelers, our checklist is designed for everyone to make the most of their RV experience. Want to take your RV experience to the next level? Are you ready to make your RV dream a reality? Contact us today and let's find the perfect RV for you, and help you start your own amazing adventure on the open road. Don't wait, let's make your RV dream come true!